St Luke's Linch is a Grade II listed church dating from 1700-1712. The original structure was extended in 1814 to include the bell tower and changes to the north window.
At the end of the 19th Century St Luke's was again extended again in celebration of Queen Victoria's Diamond Jubilee.
Today, meeting the needs of a modern congregation which includes regular worshippers, new families with younger children, visitors to weddings, baptisms, festivals and funerals meant St Luke's Linch PCC needed to build an extension to provide public amenities and a versatile church room annex.
Ptolemy Dean, a renowned British architect specialising in historic preservation, was contracted to help ensure the design of the new church annex was in keeping with its historic and natural setting.


Planning and Preparation
Ptolemy Dean Architects asked Lambs to carry out the survey to specify the stonework and to source suitable materials for the new annex.
Lambs prepared a quote for the supply and design of suitable structural stonework for the annex extension. As St Luke's Linch is a Grade 2* listed Church we worked to all stipulations required by conservation and planning.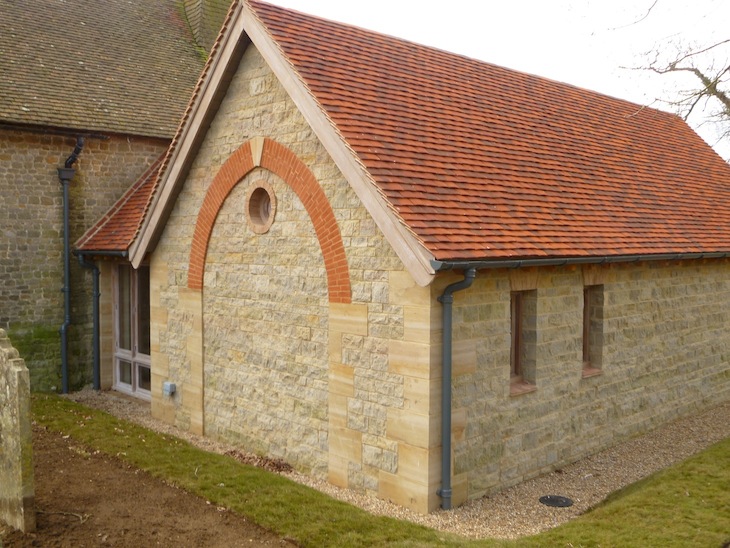 Main contractors Richardson's of Nyewood subsequently specified Lambs as the stonework supplier and manufacturer. Lambs Wealden Sussex Sandstone Building Grade was seen to be the most suitable match.
Lambs designed the two very large doorways as well as the quoin stones using AutoCAD drawing technology. As required, we ensured that each stone had its own unique plastic template of its face made (the face mould).


The Build
The completed project saw Lambs specify, manufacture and deliver the stonework for the quoin stones and the two large arched doorways.
Wealden Sussex Sandstone Building Grade was used throughout this project.